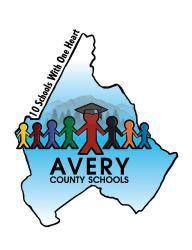 NEWLAND — Avery County School students in grades K-9 returned to in-class learning five days a week on Monday, Feb. 15, after the Board of Education voted to approve the transition at the governor's recommendation during the monthly BOE meeting on Tuesday, Feb. 9.
The return to in-class instruction five days a week is in effect for grades K-8 within the Avery County School System. However, students at Avery High School will continue to have in-class instruction four days a week, with a remote learning or split learning day set for each Wednesday, due to the social distancing requirements still in place by the state and the comparatively large numbers of students who attend AHS.
"Last week Gov. Cooper and the Director of the Department of Health and Human Services emphasized the need for students in the elementary grades to return to in-class instruction five days a week, while practicing minimum social distancing. As the board is aware, we have been fortunate to be one of the few school systems in the state of North Carolina to have face-to-face instruction four days per week since Aug. 17," Superintendent Dr. Dan Brigman said.
Before the board officially approved the motion to return to in-class instruction five days a week, it heard from two concerned parents, the first one being Lyndsay Ennis, who expressed the challenges related to remote learning and voiced their support for more face-to-face instruction.
Ennis, who has two children who attend Banner Elk Elementary, began by expressing the need for teachers to receive the COVID-19 vaccine before going on to explain the difficulty involved with shuffling her children between home, work and church, which has a day program, during remote learning days. Ennis said her two children have five classes via Zoom between the hours of 9 a.m. and noon, which she says her and her husband must help facilitate.
"The true travesty here is that there are families in this county who don't have it as easy as our family does," Ennis said. "Keeping our schools open for in-person instruction should be a team effort, and it should be a number-one priority."
Another parent, Tiffany Moon, also gave feedback on what remote learning has been like for her family. Moon said that both of her children are Exceptional Children (EC) students, and her and her husband are employed full-time.
"During remote days, I am the one who is responsible for staying home with our kids, as my husband has no paid time off with his employment. With me, this means that for my kids to get their work done, I have to sit with them and keep them on task, which results with me working at very odd times. Thankfully, I do have a job that is flexible, but this is asking a lot and creates a level of stress that I'm sure will create negative impacts in addition to the impacts of this pandemic," Moon said.
Moon recognized that there are people in the community who are not blessed with a flexible work schedule and have to choose between "putting food on the table or making sure their kids are getting an education and their school work done." Moon added that the pandemic has placed additional barriers between a children and their education and has made other challenges more pronounced, such as the lack of access to the internet, as well as the lack of the additional structure or encouragement some children may need from an adult.
"My kids have to be back in school five days a week, and I know I can't be the only parent who feels this way," Moon said. "I feel like, as a community, we have got to come together and intervene to limit the impact this situation is going to have on a generation of students in Avery County."
In response to the public comments, BOE Chair John Greene addressed the actions that the school system has taken based on the guidelines it has been given by the state.
"With the parameters we were given, we were one of the only (school) systems that went as much as we did. A lot were doing A/B (schedules) and going half the time and the schedules flip-flopped every week, while some were doing totally virtual. So we understood the value of face-to-face education. Restrictions have loosened up a little bit, so we're going to be able to do more," Greene said.
With the two parents still in attendance, the board moved forward with its decision to reinstate in-class instruction for five days a week. Dr. Brigman also addressed the circumstances that allowed the school system to make the change.
"As the data and research shows, schools are not transmitters, especially among elementary age kids. Being at home is more devastating to these kids than the threat of getting Covid at schools, from the social and emotional well-being to the nutrition that they're not getting. (The Governor) recommended school boards to bring elementary-aged kids back five days a week," Brigman said. "It is not only my recommendation to this board to adhere to the governor's recommendation, but to also do so with K-12. The high school is a little different with the size of those classes and the population. But what I would like for us to do is go ahead and bring K-8 and pre-K back five days a week."
The board quickly approved the motion to go ahead with the change. Additionally, the board heard from AHS engineering teacher Matthew Michel who announced to the board that his class has received a grant in the amount $5,000 to outfit the school's engineering and design lab, which allow the high school to move forward with a new program to train students in technology and engineering design.
"This will allow students to get more hands-on experience using tools and will benefit them, whether they're planning on attending a four-year university or going into the trades. They will learn things like small engine repair, basic mechanical equipment and basic mechanic tools. It will basically outfit our whole lab and really help that program," Michel said.
As the next order of business, the board received a construction update on the Avery High School project from Boomerang Design architect Rob Johnson and project liaison Mike Love of Branch Construction. Johnson reported that the new expected completion date for the project is now set for June after previously being set for May. Johnson and Love also reported that the rest of the roof was expected to be completed by the end of the week, with the ice and water shield being applied. Masonry work continues, as does work inside the building, although weather has delayed some aspects of the project during the winter.
After receiving the news on the new completion date, Greene expressed concern about the ever-moving goal post after April had previously been set for the drop-dead date for the project.
"We want these students to be in that building come August. We're looking at some more winter. We know the timeline of getting demolition and asbestos abatement done before we do other things, but there's no room for any error," Greene said. "From the standpoint of people in Avery County who are paying for this, from the school board and staff, and most of all our kids, we are going to be sorely disappointed and irate if we don't have school starting this Fall (in the new building)."
Love responded by saying that there are a few things with the project that are holding up other areas. Brigman seconded Greene's statement, and stressed the need to remove barriers instead of constantly moving the timeline. In order to nail down a timeline and hold parties accountable, the county will hold a joint meeting with the board of commissioners and BOE, along with representatives of Boomerang Design and Branch builds, at 5 p.m. on Feb. 23 at the Avery County Community Building.
"I cannot as Superintendent open up school on August 17, and I know that the wish of this board is to have our kids coming out of a pandemic walking into a $20 million facility on August 17. I don't want to have to explain why we're not (doing so) to the county commissioners and taxpayers in this county. We're in that situation of urgency, and if there are any further delays, I hope we can talk about that before it's put in an email and announced," Brigman said.
Finance Officer Jeffery Jaynes presented several change orders and budget amendments to the board. The first change orders involved one in the amount of $1,600 related to the roof at the high school to prevent water damage in the future, while the other was in the amount of $2,000 to install equipment such as vents within the science labs of the new building. The board also approved a change order in the amount of $65,000 for construction crews to complete a ditch that runs from the back of the building to the front. The completion timeline for the Crossnore roof project was also extended by 38 days to adjust for weather delays.
For capital outlays, Mountain Heritage Systems has secured needed material to replace the intercoms at Newland Elementary and is expected to be completed by March 15. Camera systems are also scheduled to be replaced at Cranberry Middle and Freedom Trail as well thanks to a Sheriff's Safety Grant.
The board approved two budget amendments, one in the amount of $78,000 to add to the total budget that had come in through federal funding and partly from the governor's COVID-19 project fund. The board then approved the annual Mental Health Support Report, in which Jaynes reported that the school system has two psychologists, five guidance counselors, one social worker and three nurses on staff as of Dec. 31.
School administration continues to prepare next school year's calendar, and has posted a draft calendar on its website for parents to refer to. However, an official decision is yet to be made on the calendar, as the board expects eventual changes to be made to school calendar law at the state level. Lastly, school administration has begun the process of updating its inventory of band equipment by declaring about 12 to 15 instruments as surplus in order to begin the process of negotiating a trade or sale of this equipment. Jaynes said that about $3,800 is needed to repair salvageable equipment.
The board met in closed session before adjourning.