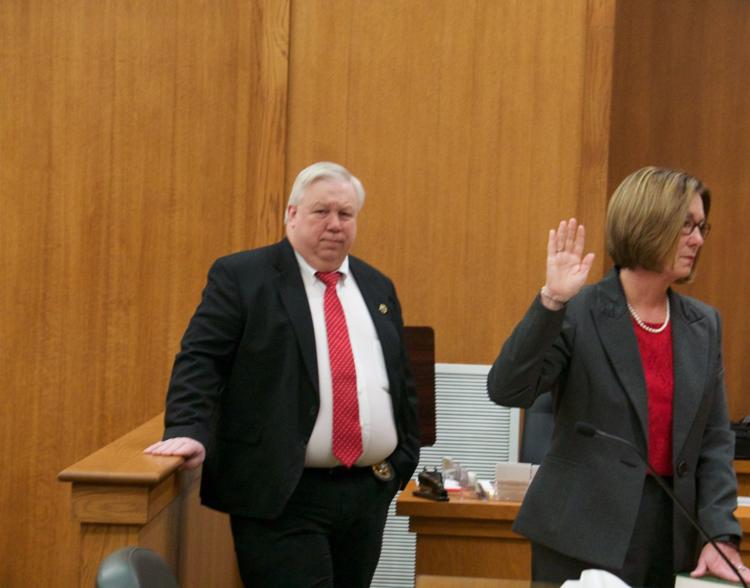 NEWLAND — Lisa Daniels, who has served as the Clerk of Superior Court for Avery County since 2006, is set to retire on October 1.
Assistant Clerk Teresa Benfield is to be appointed to the position and intends to seek election to the office as well.
Daniels started working in bookkeeping at the courthouse in 1986. When she was elected in 2006, she became the first female clerk of court in Avery County. She has run unopposed in the last three elections.
The resident superior court judge makes an appointment when a clerk leaves prior to the end of an elected term, in this instance Judge Gary Gavenus.
Daniels requested Benfield be appointed to the position, which she will serve until the first Monday in December of 2020, which does not line up with the next regular election for the position until 2022.
Unlike, for example, a position on a town board of aldermen or council, where someone appointed by the board to a vacancy would serve the remainder of the vacant seat's term, the appointed clerk position only runs through the next election that can be filed for.
In 2020, Benfield intends to run to be elected to the remainder of the regular term until 2022.
Daniels said the elected clerk is a judge of probate, and all of the legal documents that go through the courtroom are filed at the clerk's office.
"We're basically the record keeper of all court papers," Daniels said.
When Daniels originally ran in 2006, she ran opposed and was putting her position at the courthouse on the line.
"I'm very happy with how things worked out," Daniels said. "I can honestly say the Lord had a different plan for me than I did, and his certainly turned out better for me than mine ever would have. But you reach a time when you know it's just time to go. I want to retire while I'm healthy."
Daniels said the job is for someone with a heart for it, noting one of the most difficult responsibilities of the clerk is the power to declare someone incompetent as a result of incompetency hearings.
"That's a big deal when you take someone's rights away," Daniels said.
In retirement she intends to travel with her husband and help run the family Christmas tree business.
Benfield has served the county for 19 years, and said she loves what she does serving the county, and the clerk position is the next step up.
Benfield said she plans to keep the office running at the same high standard as Daniels.