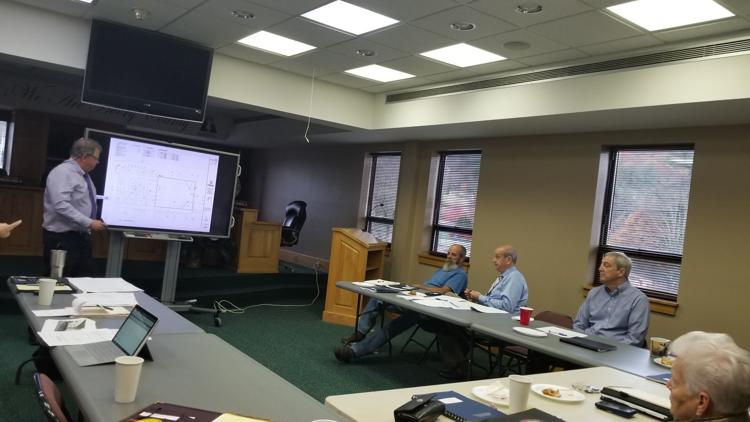 NEWLAND — The Avery County Board of Commissioners held a special meeting on the morning of Halloween, Oct. 31, with the architecture firm behind the community center project to discuss the mechanic aspect of the project.
Boomerang Design, the firm behind the project as well as a number of other recent construction projects for the county, including the current Avery County High School project, came with a mechanical engineer in tow to go over some parts of the design, notably the HVAC system for the facility.
The facility is currently estimated at $1 million and is intended as a multi-use space at Heritage Park which would be able to host convention-style events, concerts and house a certified kitchen that could be used by local farmers to pilot commercial products.
The meeting was also attended by Avery County Manager Phillip Barrier, County Finance Officer Tim Greene, and County Inspections Director Tommy Burleson. Architect Rob Johnson also showed a few slides of early renderings of the interior space.
Burleson made a point of asking whether the platform intended for performances would be a working stage or a platform. The response from the Boomerang side was the stage will be a platform.
Among the discussion was the handling capacity and units for air conditioning the space. One note was the possibility of using a brand of ductwork that are machine-washable fabric, which was a point of contention.
The project originated as a possible addition to the new offices for the County Cooperative Extension that were completed last year. The county initially contracted with Capital Development, a company that specializes in helping fundraising efforts for projects like the community center, and the Coop Extension raised only a small part of the total cost before the commissioners agreed to set aside funding for the project earlier this year.
Boomerang has been involved with the project since it first became a concept and the office, as well as the addition, are only the first two items on a list of ways the Cooperative Extension wants to develop the park in the future. The community garden, which used to be located next to where the new pool facility resides in Newland and was also a Boomerang project, has been moved to grow boxes at the park as well.
The project is still in planning stages with no set time frame for construction.